Recreational Knife Throwing DVD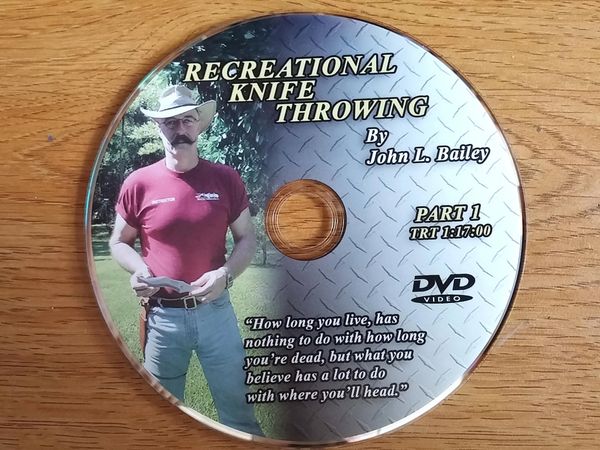 Recreational Knife Throwing DVD
*No international shipping. Continental 48 states only.
DVD's 1 & 2 for $8
This Video will have you up and throwing in no time, like you never thought possible! Both the Beginner and the Advanced Thrower will find a wealth of useful Tips in this tape.
How many times have you seen a guy in a movie make a throw with a knife that just looks unreal? Was it a trick? Did he really do it? Well...I am sorry to say a lot of what you see on the screen is pure, "writer fantasy and fancy." But cheer up! This video will show you more than enough to WOW THE SOCKS OFF YOUR FRIENDS. Each of my tapes has the tips that will show how to throw everything from bayonets to scissors. My method is the EASY WAY to learn. Your EYES do the work. If you can throw a baseball, you can learn what it takes to throw and stick a knife from four to an AWESOME Seventy-One Feet. Shots never before seen on tape! Using state of the art DIGITAL cameras; dozens of knives were shot in slow motion strobe and stop frame action, showing ALL THE TIPS TO STICKING A KNIFE. NO SPIN COUNTING, or HARD TO LEARN SPIN CONTROL or any other stuff that takes your mind off having fun! RATED for the WHOLE family!
Approx. 45 minutes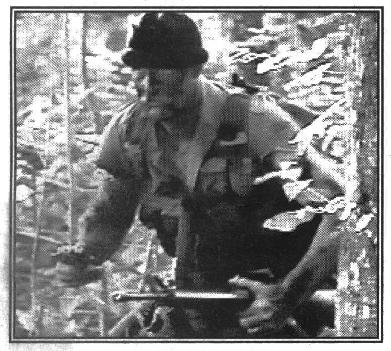 John Bailey says that if you can throw a baseball, you can learn what it takes to throw and stick a knife, at distances from four feet on up to 71 feet. The video discusses different types of throwing knives, techniques for knife throwing, determining distance, proper releases, how to build targets, and correcting mistakes. John Bailey has over 40 years of knife throwing experience including, Ranger Jungle warfare Training with the 199th Light Fighters. He has taught thousands of people from Army Ranges to Christian boy's clubs. John was a long time friend of Harry McEvoy and helped in the design of more than one of his famous knives. You'll learn how to throw everything from bayonets to scissors with this tape.
The knives shown in this video are real weapons, not toys. They have extremely sharp edges, and are not suitable for younger children. Older children require constant adult supervision while using any of these weapons. If a knife hits a target handle first it can bounce back in any direction with extreme force. Be sure to have a wide open target range where nothing can enter the area unobserved by the thrower. The suggested roped-off throwing area is 20 ft. wide by 30 ft. long. Eye protection and steel-toed boots are suggested for safety. Be alert, and be sure to have fun.
Happy Throwing, John L. Bailey