Bailiff Tactical Throwing Knife.... No longer in production.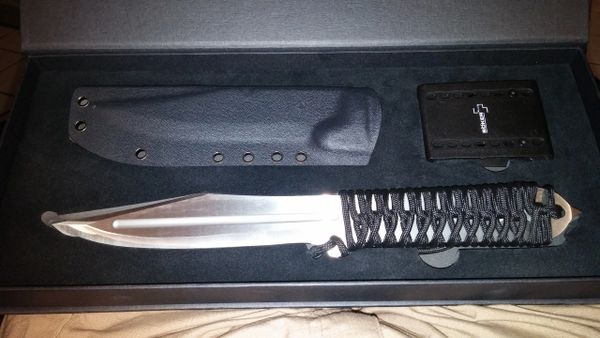 Bailiff Tactical Throwing Knife.... No longer in production.
*Price does not include freight. No international shipping. Continental 48 states only.

The Bailiff comes with a Kydex sheath that will hold the knife in any position your need calls for. The "Boker Plus" Kydex belt clip is much slimmer than any clip found on a sheath. When mounted on the sheath will allows you carry the system at most any angle; horizontal or vertical handle up or handle down. It will fit up to a 2 1/2 in belt.
I knew the M-Ziel would be a hit with the military because of its utility characteristic for everyday field work, plus it's a hoot to throw on your down time. I know this because a, Special Forces (First Sergeant) called me when they first came out and were hard to get. He wanted to make sure all the men in his company had them. Hundreds of them have been sold to all the branches of service.
BUT... I also had soldiers ask me if I could design a full blown TACTICAL / FIGHTING knife that could be thrown if needs be. So I put a lot of thought into what I would like to have.
Remember.... The Bailiff s are all serial numbered up to 1000 and a limited run knife. Get one before they are all gone. I will remove this listing when they are all sold.
This is my personal Bailiff. I wrap the par cord handle with "CamoForm Protection" for a better grip and to protect the cord.
NOTE: Due to raising international mail prices and other international restrictions we will no longer mail out side of the US. Search the internet and you will find distributors who can send John Bailey designed knives to your country. I'm sorry for the inconvenience and we appreciate your loyalty over the many years.